Boarding Services
As pet lovers we know how hard it can be to trust someone to take care of your pets.  We promise to provide a safe and enjoyable experience for your pets.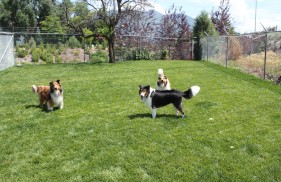 A few of the dogs enjoying playtime.
Pet Central's boarding is equipped to handle all breeds of dogs and cats.  The boarding staff is knowledgable and experienced to give the pets the best possible care.  The dogs enjoy their stay with us in clean indoor runs.  Dogs have their playtime in a safe and secure grass area 2-3 times daily.  Dogs have their playtime with other dogs of their size and temperament or all alone upon owners request.  Cats are pleased to stay in one of Pet Central's large feline living kennels, stationed in the grooming building.   Cats have playtime indoors once daily with laser pointers and toys.
Requirements for Boarding
Pets that stay in Pet Central's boarding must be current on all vaccinations.  Proof of these vaccinations are required at check-in for boarding.  Pets must be checked in or out during business hours or by appointment on Monday.  All medications that pets are taking during their stay must be provided by the owner.  Pet Central's staff recommends bringing at least one item that smells like home for pets to have during their stay with us.
Items Needed for Stay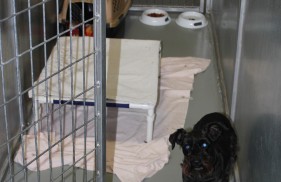 Your pet will feel at home in our spacious runs. 
Pet Central can provide everything your pet needs for it's stay, including, food (Nature's Recipe dry and wet dog food), fresh water, bedding, toys, music, and treats.
Through experience we have come to learn that the more smells, sights, and routines that are familiar to a pet can help calm them while they stay with us.
A pet's personal dishes, food, blankets, beds, toys, and treats are all welcome to be left with your pet for  their stay.
Boarding Rates
Pet Central charges per night.
Small sized dog – $28 per night
Medium sized dog – $30 per night
Large sized dog – $32 per night
Cats – $24 per night
One free night for every seven nights.
A free bath may be given after a five night stay.
Monthly Boarding – Call for estimate.
There are no additional charges for medications or any special circumstances.
There will be no charge for the day of pick-up.
With Your Pet In Mind, Pet Central…
All new!  Large and safe playtime areas.
.
Has heating and air conditioning for comfort.
Has boarding caretaker living on property 7 days a week.
Has solid heavy metal walls separating pets for comfort and safety.
Has locked secure kennel area with no public access.
Has 8-foot high security fencing to deter dogs from climbing.
Has large gauge chicken wire below grass to deter dogs from digging.
Has custom built metal gap blockers for added security.